Chemsteel has the capabilities of completing projects from design stage all the way through to the finished product. Having a relationship with CDMG, who performs engineering, design and supply of Nucor pre-engineered building. We are able to take projects from concept to completion as demonstrated in the project described below…
As is often the case, there is much more to a "pre-engineered" building than the building itself.
In the case of Precoat Metals, the scope included providing the geotechnical reports, foundations, storm water, electrical, HVAC, and fire protection as well as obtaining all permits. The storm water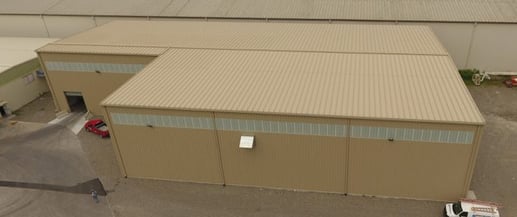 piping consisted of 1000 lineal feet, crossing under two roads, to a retention pond.
The civil concrete included spread footers and grade walls and 23,000 square feet of floor slab poured to an FF 50/FL 50 finish specifications. This finish was critical to the owner's plan to use remote controlled fork lifts for coil storage.
The building itself was 140'x120' with an offset 70'x70' attached by 2 tunnels 20'x20' connecting the finishing line with the shipping building. The main building was 35' high at the eave and 40 feet high to the ridge. The building also included 5'-0" skylights. The side walls consisted of 20,000 square feet of siding panels with 6" insulation. The building was covered by 23,500 square feet of standing seam roof, also with 6" insulation.
All work was performed to the owner's satisfaction in terms of quality and schedule and cooperation within their operating facility. Most importantly, ZERO recordable accidents.